Seize the Night: Koontz, Dean.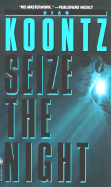 The victim of a rare genetic disorder that leaves him dangerously vulnerable to light, Christopher Snow risks everything to find the missing children of Moonlight Bay, California, whose disappearances may be linked to clandestine scientific experiments at an abandoned military base.
ORDER # H108- $14-50 ISBN 0553580191
X-Rated Bloodsuckers: Acevedo, Mario.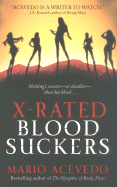 A tongue-in-cheek follow-up to The Nymphos of Rocky Flats finds newly made vampire Felix Gomez facing his toughest investigation yet when he is hired to infiltrate the corrupt world of Los Angeles politics and investigate the murder of a surgeon-turned-porn star.
ORDER # H108- $14-50 ISBN 0061438871
The Darkness: Vampire Huntress Legend: Banks, L.A.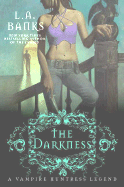 In the wake of their battle at Masada, the Neteru return to San Diego believing that they have eradicated the demon horde and Lilith's spawn, unaware that they are on the brink of Armageddon, the anti-Christ has been born, daywalkers Fallon Nuit and Sebastian are creating master vampires at a record level, and the dark realms are preparing for the ultimate horror.
ORDER # H108- $21-90 ISBN 0312368747
Fangland: Marks, John.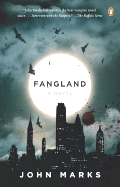 Travelling to Romania on behalf of her popular television news magazine, Evangeline Harker investigates a notorious crime boss named Ion Torgu, only to disappear and awaken several months later in a Transylvanian monastery with no memory of what happened to her.
ORDER # H108- $20-90 ISBN 0143112538
Memnoch the Devil: Rice, Anne.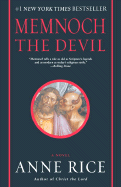 Visited by two beings who claim to be God and the Devil, the vampire Lestat is offered the ultimate chance at redemption when he is invited to be a witness at the Creation in a purgatorial land beyond death.
ORDER # H108- $21-90 ISBN 0345389409
Midnight Reign (Vampire Babylon: 02): Green, Chris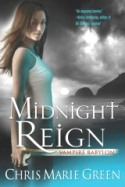 In the sequel to Night Rising, Dawn Madison must draw on all of her skills as a vampire slayer as she is drawn ever deeper into the heart of Los Angeles's erotic, underground vampire community.
ORDER # H108- $20-90 ISBN 0441015603