Drawing Dead: Brian Patrick McKinley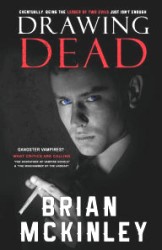 The average mobster dies as they live. Faolan O'Connor, however, finds new life after he dies. Faolan O'Connor spent his life killing for men like Legs Diamond and Lucky Luciano, and now it s his turn to face the music. But when vampire Darcy Killian offers him immortality, Faolan enters a world of violence, wealth, and power beyond anything he s ever imagined. Driven by ambition and guilt, Faolan fights his way up the ranks in a battle to justify his sins with success. He's learned the hard way that relationships are vulnerabilities and friends are just enemies in disguise, but he also knows that he can't conquer a city alone. Aided by an emotionally-crippled genius and a warm-hearted call girl, Faolan builds a loyal crew with which to challenge the tyrannical Killian's rule. However, will this re-awakened humanity prove a fatal flaw or his ace in the hole? With his life and the future of the city he loves at stake, can Faolan play his cards right or is he drawing dead?
ORDER # H1215-1 $22-95 ISBN 9781940812243
Experimental Film: Gemma Files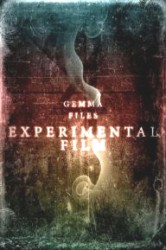 Experimental Film is a contemporary ghost story in which former Canadian film history teacher Lois Cairns - jobless and depressed in the wake of her son's autism diagnosis - accidentally discovers the existence of lost early 20th century Ontario filmmaker Mrs. A. Macalla Whitcomb. By deciding to investigate how Mrs. Whitcomb's obsessions might have led to her mysterious disappearance, Lois unwittingly invites the forces which literally haunt Mrs. Whitcomb's films into her life, eventually putting her son, her husband and herself in danger. Experimental Film mixes painful character detail with a creeping aura of dread to produce a fictionalized "memoir" designed to play on its readers' narrative expectations and pack an existentialist punch.
ORDER # M1215-2 $22-95 ISBN 9781771483490
Positive: David Wellington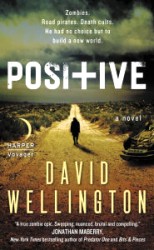 The tattooed plus sign on Finnegan's hand marks him as a Positive. At any time, the zombie virus could explode in his body, turning him from a rational human into a ravenous monster. His only chance of a normal life is to survive the last two years of the potential incubation period. If he reaches his twenty-first birthday without an incident, he'll be cleared. Until then, Finn must go to a special facility for positives, segregated from society to keep the healthy population safe. But when the military caravan transporting him is attacked, Finn becomes separated. To make it to safety, he must embark on a perilous cross-country journey across an America transformed - a dark and dangerous land populated with heroes, villains, madmen, and hordes of zombies. And though the zombies are everywhere, Finn discovers that the real danger may be his fellow humans.
ORDER # M1215-3 $13-50 ISBN 9780062315397
Immediate: Dead Blue Cole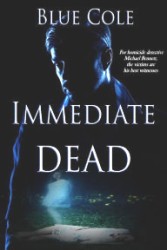 Since childhood, homicide detective Michael Bennett has been cursed with the ability to converse with the 'immediate dead'. This ability has given him access to the most important witness at every murder scene; the victim. Nicknamed The Reaper by his colleagues, and isolated by his gift, Bennett prefers to work alone. When Sandy Cooper becomes the newest in a long string of partners assigned to Bennett, she quickly realizes there's something very different about him. When doctors begin dying in brutal fashion, the unlikely partners must overcome not only their differences, but their pasts to stop a killer out for revenge.
ORDER # M1215-4 $22-95 ISBN 9780692415061