Blood Infernal: James Rollins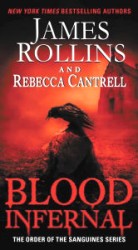 As an escalating scourge of grisly murders sweeps the globe, archaeologist Erin Granger must decipher the truth behind an immortal prophecy, one found in the Blood Gospel, a tome written by Christ and lost for centuries. With the Apocalypse looming and the very foundations of our world crumbling, Erin must again join forces with Army sergeant Jordan Stone and Father Rhun Korza to search for a treasure lost for millennia, a prize that has already fallen into the hands of their enemy. The forces of darkness have crowned a new king, a demon named Legion, who walks this Earth wearing many faces. His reach is beyond measure - even the walls of the Vatican fall before him. To have any hope of saving the world, Erin must uncover the truth behind man's first steps out of the Garden of Eden, an event wrapped in sin and destruction, an act that damned humankind for eternity.
ORDER # H216-1 $13-90 ISBN 9780062343277
The Damned: Andrew Pyper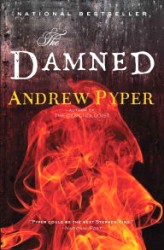 Most people who have a near-death experience come back alone - but not Danny Orchard. After he survived a fire that claimed the life of his evil twin sister, Ashleigh, Danny wrote a bestselling memoir about going to heaven and back. But despite the resulting fame and fortune, he's never been able to enjoy his second chance at life: Ash won't let him. She's haunted Danny for twenty years and now, just when he's met the love of his life and has a chance at real happiness, she wants more than ever to punish him for being alive - so she sets her sights on Danny's new wife and stepson. To save them from her wrath, he'll have to meet his sister where she now resides - and hope that this time he can keep her there forever.
ORDER # H216-2 $22-90 ISBN 9781476755120
Dead Before Dying: Kerry Schafer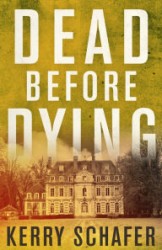 In this supernatural thriller, shot through with biting wit, Maureen Keslyn checks herself in to Shadow Valley Manor to recuperate and rehabilitate from her last job. There, she runs afoul of the stern director and makes friends with some of the other residents, mostly older, all harboring either a secret or a grudge. With secrets of her own, like why she has her own Federal Agent checking up on her, and how she injured herself in the first place, Maureen fits right in, even as she sticks out like a thorn. But Shadow Valley isn't just for rest - Maureen is working undercover, seeking to find and eradicate whatever forces are picking off the residents (and staff) at a grisly clip. With her resources dwindling one death at a time, and unnatural forces seething to rise up once more, Maureen's experience fighting the supernatural will be her only hope to destroy a clever and powerful evil - and her only chance at surviving it. She'll need people as paranoid as she is - from the sheriff, to the undertaker's daughter, to a cook whose knife skills in the kitchen could prove deadly out of it - if she is going to bring rest to the weary, and peace to the dead.
ORDER # H216-3 $21-90 ISBN 9781626819283
Drought: Graham Masterton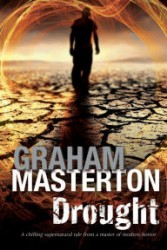 Ex-Marine Martin Makepeace only learned the truth of the maxim that you don't know what you have until you lose it, the day his wife walked out on him with their two kids. Now, the social worker does his best to take care of those who need it most. But good deeds mean nothing when the water just - disappears. It hasn't rained for months, and now, in the height of summer, the taps run dry. And not, as they first suspect, because of a burst water main. In the deprived areas where Martin works, the water's been intentionally cut off. And it's his job, he discovers, to tell the families he cares for not to panic. Martin soon has more problems than lack of water. His daughter is sick with fever. And as riots over bottled water start, Martin's teenage son is framed, and arrested, for a terrible crime. Soon Martin is left with no choice but to take drastic action to save his family, while corrupt politicians try and use the situation to their advantage, with calamitous results.
ORDER # H216-4 $25-90 ISBN 9781847515193