14: Peter Clines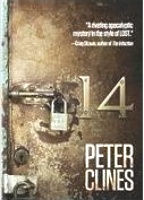 Padlocked doors. Strange light fixtures. Mutant cockroaches. There are some odd things about Nate's new apartment. Of course, he has other things on his mind. He hates his job. He has no money in the bank. No girlfriend. No plans for the future. So while his new home isn't perfect, it's livable. The rent is low, the property managers are friendly, and the odd little mysteries don't nag at him too much. At least, not until he meets Mandy, his neighbor across the hall, and notices something unusual about her apartment. And Xela's apartment. And Tim's. And Veek's. Because every room in this old Los Angeles brownstone has a mystery or two. Mysteries that stretch back over a hundred years. Some of them are in plain sight. Some are behind locked doors. And all together these mysteries could mean the end of Nate and his friends.
ORDER # H714-1 $16-90 ISBN 9781618684981
Impact: Adam Baker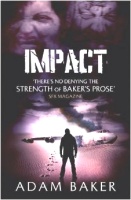 The world is overrun by an unimaginable horror. The few surviving humans are scattered in tiny outposts across the world, hoping for reprieve - or death. Waiting on the runway of the abandoned Las Vegas airport sits the B-52 bomber Liberty Bell, revving up for its last, desperate mission. On board - six crew members and one 10-kiloton nuclear payload. The target is a secret compound in the middle of the world's most inhospitable desert. All the crew have to do is drop the bomb and head to safety. But when the Liberty Bell crashes, the surviving crew are stranded in the most remote corner of Death Valley. They're alone in an alien environment, their only shelter the wreckage of their giant aircraft, with no hope of rescue. And death is creeping towards them from the place they sought to destroy - and may already reside beneath their feet in the burning desert sands.
ORDER # H714-2 $21-90 ISBN 9781444755886
December Park: Ronald Malfi 14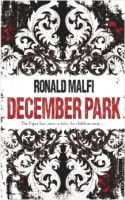 In the quiet suburb of Harting Farms, the weekly crime blotter usually consists of graffiti or the occasional bout of mailbox baseball. But in the fall of 1993, children begin vanishing and one is found dead. Newspapers call him the Piper because he has come to take the children away. But there are darker names for him, too - Vowing to stop the Piper's reign of terror, five boys take up the search. Their teenage pledge turns into a journey of self-discovery - and a journey into the darkness of their own hometown. On the twilit streets of Harting Farms, everyone is a suspect. And any of the boys might be the Piper's next victim.
ORDER # H714-3 $16-90 ISBN 9781605425917