The Binding: Nicholas Wolff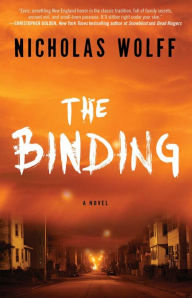 When a rare mental disorder begins to consume his small-town neighbors, a young psychiatrist digs up the past for clues to the epidemic's bone-chilling source in this brilliant supernatural horror debut, written in the bestselling tradition of Peter Straub. Convinced that evil spirits have overtaken his daughter, a desperate father introduces her to Nat Thayer, a young psychiatrist in their sleepy blue-blooded Massachusetts college town. Thayer quickly diagnoses the girl with Cotard Delusion, an obscure condition sometimes described as "walking corpse syndrome." But Thayer soon realizes his patient - and many of the local families - are actually being targeted by a malignant force resurrected from the town's wicked history. Thayer must discover the source of the spreading plague - before there is no one left to save.
ORDER # H616-1 $23-95 ISBN 9781501102714
The Eternal World: Christopher Farnsworth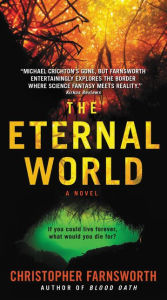 Five hundred years ago, a group of Spanish conquistadors searching for gold, led by a young and brilliant commander named Simon De Oliveras, land in the New World. What they find in the sunny and humid swamps of this uncharted land is a treasure far more valuable: the Fountain of Youth. The Spaniards slaughter the Uzita, the Native American tribe who guard the precious waters that will keep the conquistadors young for centuries. But one escapes: Shako, the chief's fierce and beautiful daughter, who swears to avenge her people - a blood oath that spans more than five centuries. When the source of the fountain is destroyed in our own time, the loss threatens Simon and his men, and the powerful, shadowy empire of wealth and influence they have built.
ORDER # H616-2 $13-50 ISBN 9780062282941
Ghost Run (Day by Day Armageddon): J. L. Bourne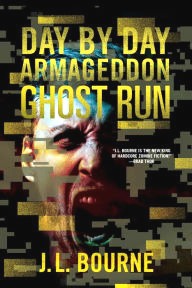 In a desperate bid to survive as hordes of bloodthirsty undead now dominate the ravaged U.S. population, a Navy commander discovers an incredible secret about the pandemic in this fourth novel in the acclaimed Day by Day Armageddon series.
Task Force Phoenix may be humanity's final hope, and the narrator's agonizing decisions could mean living one more day - or surrendering to the eternal hell that exists between life and death.
Ghost Run is a suspenseful, gripping, and intelligent thriller that will terrify die-hard horror fans and reinforce J.L. Bourne's reputation as "the new king of hardcore zombie action" (Brad Thor, author of Act of War).
ORDER # H616-3 $23-95 ISBN 9781501116698