Finders Keepers: Stephen King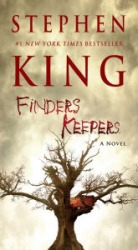 "Wake up, genius." So begins King's instantly riveting story about a vengeful reader. The genius is John Rothstein, an iconic author who created a famous character, Jimmy Gold, but who hasn't published a book for decades. Morris Bellamy is livid, not just because Rothstein has stopped providing books, but because the nonconformist Jimmy Gold has sold out for a career in advertising. Morris kills Rothstein and empties his safe of cash, yes, but the real treasure is a trove of notebooks containing at least one more Gold novel. Morris hides the money and the notebooks, and then he is locked away for another crime. Decades later, a boy named Pete Saubers finds the treasure, and now it is Pete and his family that Bill Hodges, Holly Gibney, and Jerome Robinson must rescue from the ever-more deranged and vengeful Morris when he's released from prison after thirty-five years.
ORDER # H316-1 $13-90 ISBN 9781501100123
Vostok: Steve Alten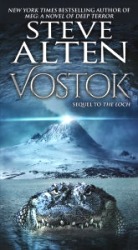 East Antarctica: The coldest, most desolate location on Earth. Two-and-a-half miles below the ice cap is Vostok, a six thousand square mile liquid lake, over a thousand feet deep, left untouched for more than fifteen million years. Now, marine biologist Zachary Wallace and two other scientists aboard a submersible tethered to a laser will journey 13,000 feet beneath the ice into this unexplored realm to discover Mesozoic life forms long believed extinct - and an object of immense power responsible for the evolution of modern man.
ORDER # H316-2 $13-90 ISBN 9780765388025
Devil in the Grass: Christopher Bowron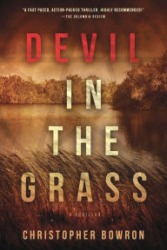 When his pro football career fails, Jackson Walker returns to his home in southwest Florida to sort out his life. He lands an internship with Republican state senator James Hunter, whose Clean Water Bill puts him at odds with influential members of The Brotherhood of Set, a Satanic cult. They have deep roots in Florida, and are led by the sinister Henrietta LePley. After Walker begins a relationship with a member of the Brotherhood, he is framed for the horrific killing of two elderly people. To clear his name, Jackson turns to his Seminole family to evade the police and a particularly nasty bunch of malevolent characters who specialize in the disposal of dead bodies. The Everglades provides an ancient and frightening setting for the unfolding action that will prove whether Jackson Walker will pull himself free from the dark evil that lurks there.
ORDER # H316-3 $25-90 ISBN 9781633932067
Signal: Patrick Lee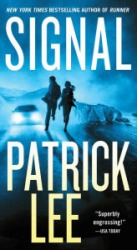 Ex-Special Forces Sam Dryden lives quietly in a small coastal California town. But his peaceful existence is shattered when he receives a phone call from an old friend in trouble - and now there's no turning back. FBI agent Marnie Calvert is called to a horrifying crime in the Mojave Desert. When the investigation leads Calvert to Dryden, the two find themselves caught up in a generations-long conspiracy that's finally coming to fruition. Now they must face down a phantom network whose technology can affect events before they even happen - and is bound to result in the death of millions. To defeat it, Dryden will need to do more than think fast: He must find a way to outsmart a ruthless enemy that can seize on his mistakes before he even makes them. And time is running out.
ORDER # H316-4 $13-90 ISBN 9781250030764
Pyrophobia: Jack Lance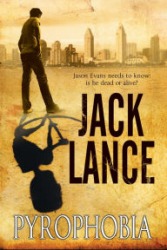 Life has been nothing but smooth sailing for Jason Evans. He has a loving wife, Kayla, a good job, and plenty of friends. There's nothing standing in the way of his happiness, until an unknown enemy starts sending him strange photographs, of a graveyard, with ominous and perplexing messages on the back of each: 'You are dead. You think you're alive, but you don't exist' - Jason soon finds out that his life is not what he has always believed it to be. He embarks on an incredible search. A search for his own grave.
Dark, tense, and psychologically gripping, Pyrophobia is a fantastic horror story with subtle hints of the paranormal.
ORDER # H316-5 $26-90 ISBN 9781847515971