Ghost Radio: Leopoldo Gout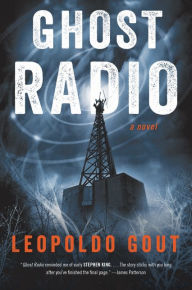 From the cramped bowels of a dimly lit radio station, Ghost Radio is beamed onto the airwaves. More than a call-in show to tell scary stories about vampires and poltergeists, Ghost Radio is a sanctuary for those sleepless denizens of the night, lost halfway between this world and the next. Joaquin, the hip, melancholy host, sits deep in a fog of cigarette smoke, fielding calls from believers and detractors alike. He is joined in the booth by his darkly beautiful girlfriend, Alondra, and his engineer, Watts. Soon what began as an underground cult sensation is primed to break out to mainstream audiences. When a huge radio conglomerate offers to syndicate the show and Ghost Radio becomes a national hit with an expanding legion of hardcore fans, neither Joaquin, Alondra, nor Watts is remotely prepared for what is about to happen.
ORDER # H518-1 $24-90 ISBN 9780062853509
Dead Men's Boots: Mike Carey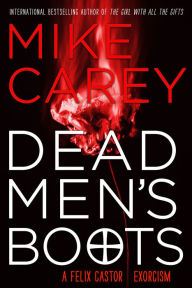 You might think that helping a friend's widow to stop a lawyer from stealing her husband's corpse would be the strangest thing on your To Do list. But life is rarely that simple for Felix Castor. A brutal murder in the heart of London bears all the hallmarks of a long-dead American serial killer, and it takes more good sense than Castor possesses not to get involved. He's also fighting a legal battle over the body - if not the soul - of his possessed friend, Rafi, and can't shake the feeling that his three problems might be related. With the help of the succubus Juliet and paranoid zombie data-fence Nicky Heath, Castor just might have a chance of fitting the pieces together before someone drops him down an elevator shaft or rips his throat out.
ORDER # H518-2 $24-90 ISBN 9780316511612
Travails for Teyuna: Nicholas Paschall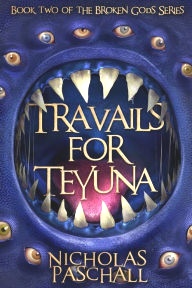 After a year trapped in a Chinese monastery, world-traveling occult Professor Nickels and his students escape, only to brave bigger and deadlier challenges. A slumbering elder god known as the Brother of Bone has gone missing. Meanwhile, sinister forces are hard at work ferreting out the god's resting place, seeking to claim its mighty powers for themselves. Knowing the catastrophic danger that would ensue if the Brother of Bone fell into the wrong hands, Nickels and his students set off to find answers. All signs point to Teyuna--an ancient city not on any map, inhabited solely by vampires and the humans who serve as their livestock. Finding a city that shouldn't exist is only half the problem, because getting there alive is a completely different matter. With their path beset by assassins, deranged demonologists, undead hordes and mystical serpent women with horrific powers, Nickels and his group will need nothing short of a miracle to reach Teyuna in one piece.
ORDER # H518-3 $25-90 ISBN 9781946378132
Unquiet Spirits: Whisky, Ghosts, Murder: Bonnie MacBird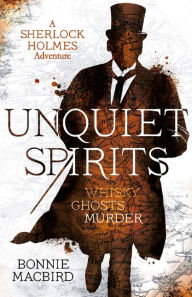 A beautiful client arrives with a tale of ghosts, kidnapping and dynamite on a whisky estate in Scotland, but brother Mycroft trumps all with an urgent assignment in the South of France. On the fabled Riviera, Holmes and Watson encounter treachery, explosions, rival French Detective Jean Vidocq - and a terrible discovery. This propels the duo northward to the snowy highlands. There, in a "haunted" castle and among the copper dinosaurs of a great whisky distillery, they and their young client face mortal danger, and Holmes realizes all three cases have blended into a single, deadly conundrum. In order to solve the mystery, the ultimate rational thinker must confront a ghost from his own past. But Sherlock Holmes does not believe in ghosts - or does he?
ORDER # H518-4 $24-90 ISBN 9780008276331