Lightning: Dean Koontz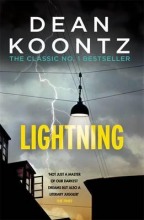 The first time the lightning strikes Laura Shane is born...The second time it strikes the terror starts - though eight-year-old Laura is saved by a mysterious stranger from the perverted and deadly intentions of a drug-crazed robber. Throughout her childhood she is plagued by ever more terrifying troubles, and with increasing courage she finds the strength to prevail - even without the intervention of her strange guardian. But, despite her success as a novelist, and her happy family life, Laura cannot shake the certainty that powerful and malignant forces are controlling her destiny. Then the lightning strikes once more and shatters her world. The adventure - and the terror - has only just begun.
ORDER # H915-1 $12-95 ISBN 9781472230287
Night of the Damned: Stephen Bywater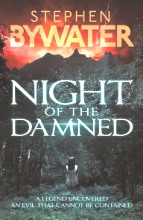 Brazil, 1935: a vast rubber plantation buried deep in the Amazon Rainforest is the site of a barbaric killing. When agent Miller is sent out to investigate, events take a startling turn for the worse. Men ominously vanish without warning, a cadaverous girl is spotted roaming around, deadly tropical storms and blazing fires wreak havoc, and there are whispers that the murdered man has been sighted. Who are the emaciated creatures glimpsed only after dark, nowhere to be seen in the light of day? If the horrors of local Brazilian legend are to be believed, Miller has landed himself in a living nightmare.
ORDER # H915-2 $16-95 ISBN 9781472210418
Abandon: Blake Crouch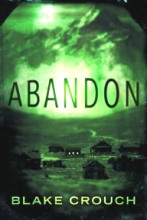 On Christmas Day in 1893, every man, woman, and child in a remote gold-mining town disappeared, belongings forsaken, meals left to freeze in vacant cabins - and not a single bone was ever found. One hundred sixteen years later, two backcountry guides are hired by a history professor and his journalist daughter to lead them to the abandoned mining town so they can learn what happened. Recently, a similar party had also attempted to explore the town and was never heard from again. Now the area is believed to be haunted. This crew is about to discover, twenty miles from civilization with a blizzard bearing down, that they are not alone, and the past is very much alive.
ORDER # H915-3 $20-95 ISBN 9781503946194
The Unyielding Future: Brian O'Grady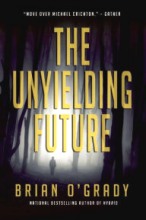 There are forces at play. Forces that can prevent massacres...or cause them. Stop murderers in their tracks - or inspire them. Save the world - or destroy it.
A doctor and his family are about to discover these forces. They are going to play a role in a future that needs changing but seems unyielding. And they are going to learn more about our world than they ever imagined - or ever wished to know. A propulsive novel both enormous in scope and intensely personal in its stakes, the unyielding future is the most ambitious and audacious tale yet from one of our most inventive storytellers.
ORDER # H915-4 $21-95 ISBN 9781611882162